How To Use Photo Booths To Celebrate Back to School
It's that time of year again. Vacations are over, the chaos of summer is finally winding down, and routines commence as school starts back up again in September.
Even if you have a love/hate relationship with the end of the vacation season, we can all agree that a new school year is something we want to make as positive as possible for our kids. 
Rather than feeling apprehension or dread, we want our kids to believe that school and learning is something to truly celebrate!
Whether you have a September birthday coming up, or you just want to throw a giant feel-good bash, a photo booth will make the start of the 2019 school year one to remember.
Here are some of our favorite school-themed photo booth party ideas: 
Throw A "Goodbye Summer" Neighborhood Barbecue
Chances are, you may have a kid or two who are not quite ready to let go of those lazy summer days. 
Maybe YOU aren't quite ready yourself. 
We get it. That's exactly why there's no better excuse than the start of the school year to throw one last summer bash – and chances are if you've got a photo booth, all of your RSVP replies will be a YES!
Print up some summer-y invitations, fire up the grill, and gather your community together for a farewell summer BBQ. Then get ready to document the fun!
You can invite the whole block, or just a few close neighbors… as long as the theme is SUMMER. 
And for an extra thoughtful twist on a standard BBQ, ask your guests to dress accordingly and plan a refreshing summer menu, potluck style!
Suggested attire: 
Swimsuits

Sundresses

Aloha shirts
Prop ideas: 
Sunglasses

Sun hats 

Lei's

Sunscreen
Menu: 
Hot dogs

Hamburgers

Watermelon

Corn on the cob

Ice cream cones
Party hard with great music, water balloons, slip and slides, and yard games. Then have your guests strike their best vaca pose as you all bid the summer season adieu.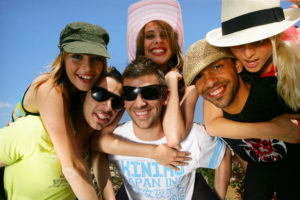 Take "First Day" Pictures With Your Family And Friends
While it's unlikely that you'll throw an event the actual first morning of school, having a party with your children's classmates, friends, or cousins during the first month of the school year is a fun way to document the occasion. 
Maybe it's your baby's first day of kindergarten, or maybe your daughter wants to celebrate the transition to high school with all of her friends. 
No matter their ages, getting together to hallmark the occasion is a great way to make the school experience a positive thing for all!
As any parent knows, the days are long but the years are short, and you'll never find a childhood photo you wish you hadn't taken. 
So rent a photo booth, call the kids together, and get everyone dressed up and cheesing for the camera!
Suggested attire:
Your best "first day of school" outfit
Prop idea
Apples

Rulers

Glasses

Graduation caps
Menu
Alphabet soup

Peanut butter and jelly sandwiches

Caramel Apples
Play recess yard games, and serve school-themed snacks. Your guests will love documenting the start of the academic year with fun props and poses. 
If it's a big hit, you can also throw an end of the school year photo booth party and see how much your kiddos have all changed and grown!
Celebrate School Milestones
Whether it's making the honors list, scoring a touchdown, or winning at the science fair, the school year can be FULL of milestones big and small.
Hard-won accomplishments are always a great reason for a celebration, so don't be afraid to make a big deal over the big deals. You'll help inspire your kids to keep reaching for the stars!
Suggested attire
Theme the attire to whatever milestone you're celebrating! If the accomplishment is sports-related, have everyone wear jerseys. If it's an academic celebration, ask your guests to come dressed as mad scientists, or their favorite historical figure.
Prop Idea
Medals, trophy's, sports equipment, safety goggles, tutus. Whatever they've accomplished, gather the appropriate props!
Menu
Stay true to the milestone theme! You can plan an award-winning menu for the scholar, or make tutu cupcakes for the kid who nailed their dance recital. Make it unique and customized to your child!
Watch a video or view photos of your kiddos shining moment, and then listen to some of your guest's best accomplishments and future hopes. And, of course, take plenty of fun pictures in your photo booth so your child can scrapbook the occasion and savor it for years to come.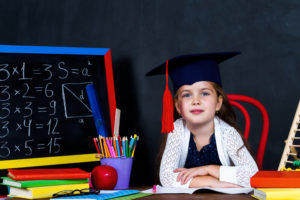 At Foto-bomb, we personally think any occasion is a good excuse to make memories with a photo booth, and September is full of opportunities to celebrate and document the school year. 
If you're ready to book a booth for your next party or event contact Foto-bomb photo booths today!