It's graduation season and the little one (not so little anymore, really) — whom you nagged through high school to wake up early for school, and to study lessons at night — will be off to college soon.
"It's an important milestone in her life as well as in yours, so it calls for a celebration."
The easiest way to do so, especially for a busy mom like you, is to go out and have a fancy family dinner. But if you want to relish the remaining moments you have with your soon-off-to-college kid, how about making it even more special?
Throw her a graduation party with the works – photo booth rental, yummy food, and a well-designed program.
Here are five excellent graduation party ideas to help you get started:
Come up with a theme for the shindig that your daughter will approve of and let it guide you in all the other aspects of party planning.
1. Reserve a photo booth rental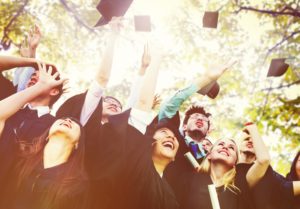 Young people love taking pictures and it's more fun if picture-taking is done in a booth that's already supplied with props, and if prints are provided straight after the photo session.
These "hard copies" of fun moments with family and friends make great souvenirs or keepsakes from the event.
2. Research activities online that work with the theme.
Nothing makes parties a dud more than people not knowing what they're supposed to do other than eat. Create a program that includes all these activities and that can ensure everybody's enthusiastic participation.
3. Don't bother slaving away in the kitchen to feed everybody.
If you can just purchase from your local restaurant, do so. However, if you wish for the act of eating to be an opportunity for everybody to interact more, then prepare food that people can easily help themselves to, such as tacos, s'mores, hotdogs, salads, ice cream and others.
Guests will just choose what they like and easily go back for seconds (thirds and fourths) without having to ask.
4. Make sure there's some "wind down" entertainment.
When all of the exciting activities are over, people just want to sit back and relax, but not necessarily leave.Consider getting an acoustic band to listen or dance to.
Alternatively, you can prepare an outdoor movie setup — choose a wholesome film that all of you can watch together.
Try these graduation party ideas and make your young graduates event truly special, book Fotobomb Photo Booths today!